PANEL STONES TO CREATE RUSTIC OUTDOOR FIREPLACE LOOK
11/08/2023 - hoàng anh - 2 Comment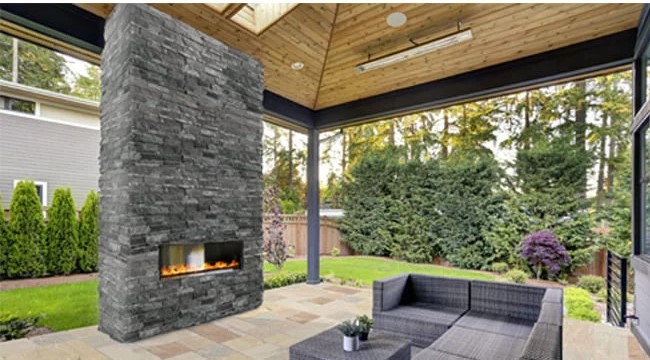 The most classic and adaptable material to give an outdoor fireplace a rustic appearance is Natural Stone. Due to its design, ease of maintenance, and versatility, stacked stone is a great option for cladding up-segmented outdoor fireplaces. Genuine natural stones that give your open areas character frequently add a rustic touch to your fires. These natural panel stones are popular among homeowners for their versatile features.
"Live in the Sunshine, Swim in the Sea, Drink the Wild Air"
Enjoy the magnificent beauty of nature by choosing from the wide collection of SHC Stone to design and construct your place. The fireplace is one such area you can design at your convenience. It provides a warm environment in the winter and a spot for some cool meetings in the summer. So why not express yourself artistically? The place you choose to live in and how you want to use it are two frequent considerations for this. These are the elements that decide which stone one should pick in order to proceed. Ledge Stones has long served as the model for creating a genuine appearance for your tranquil home. They make your home more visually appealing. The real outdoor ledge stone, is the one-stop solution for this, whether you are intending to build a new fireplace space or want to spruce up the old one. Additionally, there are numerous designs, hues, and textures available on the market for this product, giving you more options to raise the worth of your home.
SHC GROUP – Ms. Sarah (Direct Sales):
Email: export1@shcgroup.vn
Mobile: +84 936 374 398 (Whatsapp/Viber/Zalo)
Wechat: export1_shcgroupvn