ADVANTAGE OF SPC WALL PANEL
15/02/2023 - adminraothue - 2 Comment
Product Description
Our SPC Wall Panels are manufactured with modern advanced technology from Germany. This product is a great choice for customers because it utilizes a unique UV coating technology.
The 4-layers structure of our wall panels increases the products' resistance to shock, deformation and fire, meeting the most stringent quality requirements of current projects.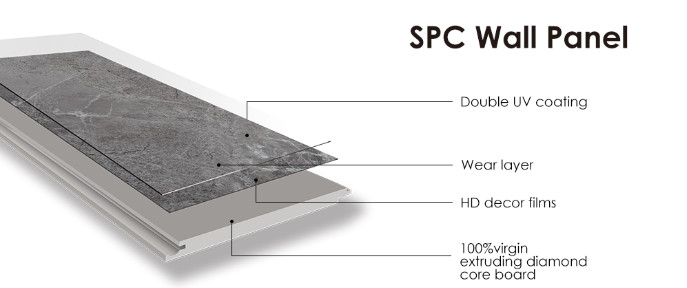 Layer description
1 – Double UV Coating
2 – Wear layer
3 – HD decor filrms
4 – 100% virgin extruding diamond core board
Product Advantages
Key benefits of SHC's PVC wall panels
Easy and fast to install
PVC wall panels are user friendly. It can easily be cut which aids the installation process.
Because of grout free, it is save construction costs and time compared to tiles. PVC panels are easy to install so there's no need to hire an expensive contractor.
Beautiful Appearance
PVC wall panels have been developed to look very similar to real tile and natural wood. At first glance, most people cannot tell a big difference.
Some benefits of PVC wall panel include meeting diverse interior design styles, maintaining a steady temperature during weather fluctuations and is easy to clean.
Water-Proof, Mildew Resistant
PVC wall panels are perfect choice for wet areas in rooms such as baths, kitchens and basements because it is water-proof and mildew resistant. It's smooth surface resists dirt and can be cleaned with a cloth without the need of strong detergents.
Recyclable
PVC wall panel is 100% recyclable and can be taken to any plastic recycling facility.
Scratch Resistant
Our PVC wall panels have better abrasion resistance and scratch resistance than most wall treatments, such as painted drywall or paneling.
Affordable prices
PVC wall panels installtions are more cost-efficient than other traditional materials which require added materials such as grout and special tools.
Conclusion
Your floors and wall are an integral part of your home. Make them strong and durable only with SHC. To get further information on SPC, visit the website.
Contact us for more PVC Product: 
W: www.vietnampebble.com.vn
T: +84.585.678.996
E: Export3@shcgroup.vn