6 Natural Stones Made for Deluxe Pool Decks
21/08/2023 - hoàng anh - 2 Comment
"6 Natural Stones Made for Deluxe Pool Decks"– For a lavish backyard pool that your friends and family will love to spend time around all summer, a pool deck is a requirement. After all, a deck surrounding your pool adds not only value but style as well. There are many materials available for crafting a luxurious pool deck including well-laid pavers made from natural stone.
Travertine
Most frequently found in cream, tan, and rusted colors, the appearance of travertine is unique. The rich brown and red undertones in the stone allow it to merge flawlessly into classic desert landscaping and architecture, which is a rising trend in the housing industry.
Travertine absorbs water instantly. It makes a travertine pool deck almost slip-free. As well, travertine remains cool to the feel, no matter what the weather meaning, it can stand up to high temperatures with simplicity. You won't have to concern about burning your hands, feet, or other parts of your body when relaxing on a travertine pool deck all summer long.
Flagstone
Flagstone is composed of diverse natural stone pavers with different sizes, colors, and textures. After specialist craftsmanship and installation, the finished product results in pavers arranged in a matchless design. This ultimate design can be laid in a variety of different patterns, depending on your design way and fitting team. Because of the high density, flagstone is a very durable and low-maintenance stone. It won't sustain break or scratch from exposure to water or other outdoor elements.
One problem with flagstone is that it's remarkably good at holding heat. Unluckily, this means that it can be uncomfortable to walk on this material with bare feet, especially in hot summer times. For an indoor pool or a shaded pool, flagstone can be the best option. Though, for a pool that's in the direct path of the sun, you can consider any other natural stones.
This flagstone deck creates a rustic appearance surrounding the pool, with a whole host of colored pavers following a natural pattern.
Sandstone
As its name tells, sandstone is known for its natural, light brown shades and can be used to create the feeling of walking on any beach. Unique to sandstone is the fact that it is meant to erode over time. It forms a rugged and historic feel for any pool deck. Scratches, Stains, and weathering all contribute to the personality of sandstone by enhancing the hues and undertones of the stone.
Just like travertine and other natural stones, sandstone has a slip-free surface. Though, sandstone is mainly porous and needs to be sealed to be used for a pool deck. Once sealed, sandstone is long-lasting enough to stand up to water, heat, and wind.
This pool deck, made from beautiful teakwood sandstone, features long, thin lines of color that contribute to a beachy aesthetic.
Limestone
While it's known for the familiar tan and white colors found in very old structures around the world, limestone is available in a range of striking hues, including blue, grey, and even pink. The lively colors stand up to years of sun exposure and weather due to its inbuilt durability. The beauty of limestone also makes it a trendy choice for the pool deck and coping.
Limestone consists of fossilized organic substances as well as inorganic resources, resulting in a smooth texture that's not a lot found in other stones. This quality makes it one of the smoothest natural stones accessible. While stones such as granite are known for their resistance, limestone is valued for its fragility.
In the example, the limestone pool deck contributes to the modern style of the backyard. Guests are welcomed with relaxed seating, so they can enjoy the poolside space.
Slate
Durable, heavy, and a construction staple for centuries, the smooth nature of slate makes it the ideal option for a pool deck with a contemporary touch. This stone is usually found in blue, black, and grey shades, although it comes in orange and brown colors as well.
Slate should not be installed directly on grass, dirt, or sand. For a protected and table pool deck, installation should be done on a strong surface like concrete or plywood. This will reduce the risk of the stone being damaged. Generally, installing slate can be difficult, due to the heaviness of the stone, leading to potentially higher costs. Though, the durability and strength of slate will result in lower maintenance costs throughout the lifetime of the pool deck. This slate deck features the stone's trademark gray hues and complicated textures. Slight color variations throughout the deck include hints of brown and tan.
Marble
Quarried from mountains across the world and world-famous for its premium look and feel, marble is synonymous with climax luxury. Marble embodies class, wealth, and fashion, and its natural veining adds a three-dimensional appearance to the stone's surface.
A unique class of marble is its translucence. When the sun hits it just right, your marble pool deck will appear to glow and shine from inside. This stunning feature will make your pool deck a sight to see on sunny summer days.
As a porous stone, marble will have to be sealed annually to protect it from water damage. Additionally, when used for pool decks, marble should not be polished, to reduce the risk of slips and falls. This white marble pool deck effortlessly combines modern elegance with sleek minimalism.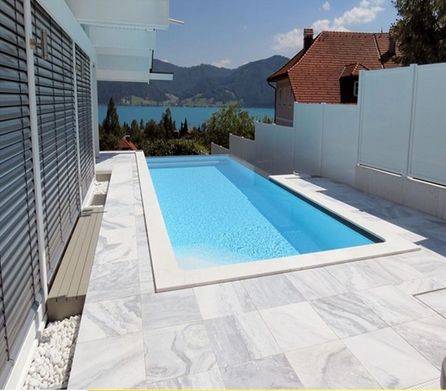 The finishing touches
Once you've chosen a natural stone for your pool deck, it's time to focus on the information and unique touches that will make your deck a house accent you can appreciate for years to come. One detail is the finish you select for your natural stone pool deck. The finish of a stone can contribute to its texture and overall appearance. Natural stones are most often found in three finishes:
Honed: Smooth and matte
Tumbled: Textured and porous
Polished: Smooth and shiny
For pool decks, any finish can be used, and preference comes to texture. If you're looking for an even deck, consider a honed or polished finish. If you want a textured deck, and plan on spending much time walking on it barefoot, but you may consider a tumbled finish.
Pool tile and coping
A stunning pool deck is only one piece of the puzzle. You'll also require considering coordinating pool tile and coping to complete your outside space. Pool tile consists of tiling on the interior of the pool while coping helps make a ledge for swimmers to grab onto when exiting or entering the pool. Coping also contributes to the structure of the pool, protecting it against leaks. With coordinated pool tile and coping, your entire outdoor space can achieve a similar look and feel. You can either use the same natural stone as your pool deck, or other types of stone for a striking contrast. The possibilities are endless when it comes to pool tile and coping, giving you the opportunity to make your design all your own. These were the top 6 Natural Stones Made for Deluxe Pool Decks.
SHC GROUP – Ms. LyLy (Direct Sales):
Email: export3@shcgroup.vn
Mobile: +84 585 678 996 (Whatsapp/Viber/Zalo)
Wechat: export3_shcgroupvn