NATURAL STONE PEBBLES ARE SUITABLE FOR A WIDE RANGE OF HOME IMPROVEMENTS
14/07/2022 - hoàng anh - 2 Comment
Are you gearing up for a major home renovation project? Whether you're contemplating a new look inside or a fresh approach to your landscaping, you should consider the many benefits of using natural stone pebbles. You'll find plenty of general information on these beautiful stones below, as well as some great ideas on ways to incorporate them into your own decor.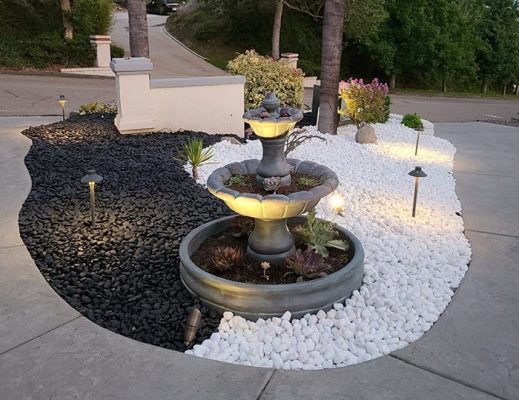 Using natural stone pebbles in interior decoration
Natural pebbles have a role to play in not only exterior, but interior renovations too. Pebbles can add a great accent to a wide variety of decor schemes, from the rustic and traditional to the sleek and super-modern. You should bear in mind that the overwhelming majority of interior applications for stone pebbles will require some demanding installation work; further details are presented below.
Pebbles in the bathroom
If you want to give your bathroom a luxurious spa-like atmosphere, stone pebbles are an excellent choice. They can be used sparingly to create distinctive styles or in greater numbers to finish off floors or walls. Keep in mind that properly sealing pebbles is vital when you use them in your bathroom. Different types of stone can have very different finishes; some are already highly water-resistant while others are extremely porous. Speak with the supplier of your pebbles about the proper way to seal them to create waterproof surfaces.
Pebble counters
Stone pebbles can be used to create one-of-a-kind bench tops in kitchens and other rooms. Obviously, pebble bench tops aren't ideal for food preparation surfaces, but they make excellent accent pieces alongside more traditional surfaces. When you decide to put in a pebble-finished bench top you must remember to prepare for the weight of the finished product. The natural pebbles themselves are extremely heavy, and they'll require extensive mortar beds which adds considerably to the overall weight. As with most interior applications, pebbles used for counters should be sealed to provide a long-lasting surface.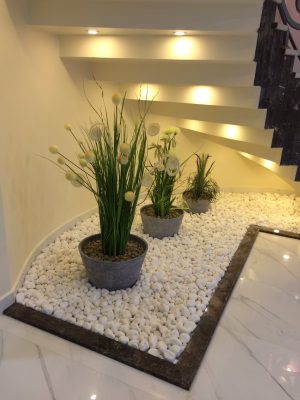 The importance of quality installation work
When they're crafted properly, natural pebble surfaces are among the most durable options available to you in interior design. They must be installed carefully and correctly. Poor choices when it comes to mortar, sealant, and pebble size can produce unfortunate results. If you cut corners, pebble floors and bench tops can shed stones, retain moisture, and degrade quickly. Creating a level surface using natural pebbles is challenging, too. If you're going to create your own pebble surfaces, make sure you do your homework and master the necessary installation techniques. If you don't have the time or the inclination to do the job properly, it's a good idea to leave the work in the hands of professional builders.
The possible applications of stone pebbles both inside and around your home are virtually endless. If you feel your next renovation or home improvement could do with some distinctive and durable natural pebbles, do your homework and make sure you install the right stones for the job.
If you have any question for natural stone product, please feel free to contact us to getting the best supportation
SHC GROUP – Ms. Sarah (Direct Sales):
Email: export1@shcgroup.vn
Mobile: +84 936 374 398 (Whatsapp/Viber/Zalo)
Wechat: export1_shcgroupvn