HARDSCAPE DESIGN IDEAS WITH PEBBLES & STEPPING STONES
12/03/2022 - hoàng anh - 2 Comment
Fed up with your old boring landscape design? It's time to bring some change. Opt for the material that is durable and equally affordable at the same time. Natural stone with various color choice and finish allows homeowners to get creative with the construction project.
Bring some uniqueness and exclusiveness to your land with the addition of natural stone hardscape elements. SHC Group offers a wide range of hardscape product collections, mainly stepping stones and pebbles.
Natural stone products are well known for their physical and visual properties. Then why not to opt them for creating alluring landscaping design ideas. Stepping stones, commonly known as steppers are the small pieces used to create an alleyway.
Whereas stone pebbles for the garden are smaller than steppers used to decorate border areas or pathways. The aesthetics of natural stone brings a special charm to the outdoor oasis.
Have a look at the below-given hardscape design ideas using natural stone hardscape products:
1. Round Garden Steppers:
Stepping stones come in various sizes and shapes to create an interesting visual appeal. SHC Group offers steppers in numerous attractive shapes to capture the viewer's attention.
So, what are you waiting for? Choose the top trending garden natural stone to develop hardscape design ideas.
2. Slate Stepping Stones on the Pathway:
Passage area capture most of the attention. So, it must be attractive enough to complement the entire landscaping scheme.
Give your pathway a nice lift with the installation of slate stepping stones. This hardscape element offers strength, durability, and longevity.
A square shape installed to create a pathway gives a symmetrical appeal. Bring this sleek look to your yard with natural stepping stone installation.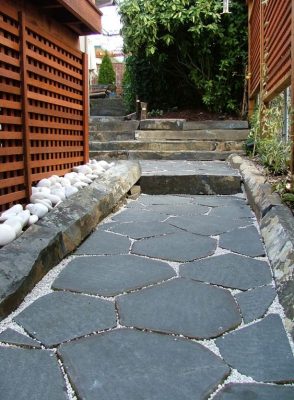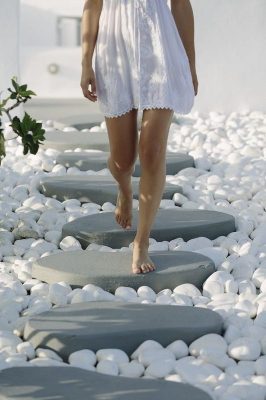 3. Combination of Stone Pebbles with Steppers
Are you looking for an interesting backyard passage? Instead of going for a single hardscape element, one can opt for the combination of natural stone products. It gives natural essence featuring simplicity and elegance.
Antique black irregular stepping stones lay perfectly on the backyard pathway. The bold and beautiful black grey hues act as a hero of the landscaping scheme. The color contrast and irregular shape of steppers finely create a contemporary design theme.
To add more to the area, outdoor pebbles are installed on the zig-zag walkway. The combination of blacks and whites provides a refreshing appeal.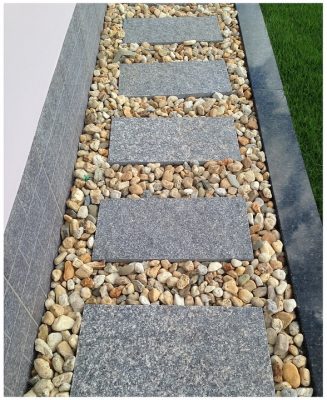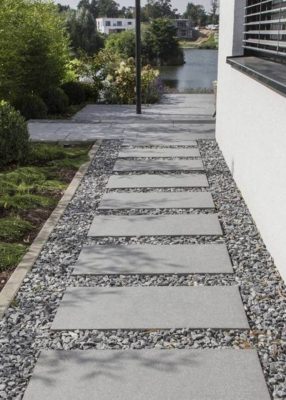 4. Outdoor Pebbles covering the border area:
Borders highlight the entire landscaping scheme. They act as an outlining element creating a nice boundary all around.
These marble pebbles are perfectly installed on the sidewalks of the garden covering the border area. The addition of green elements and herbs completes the design scheme.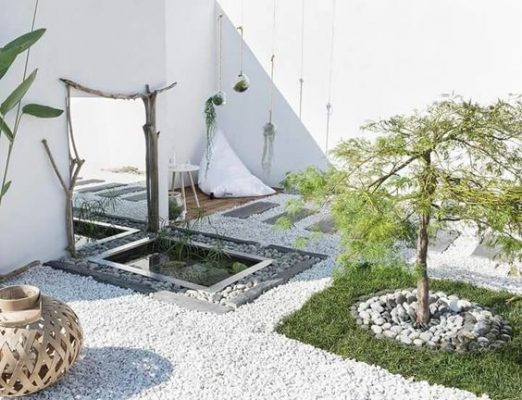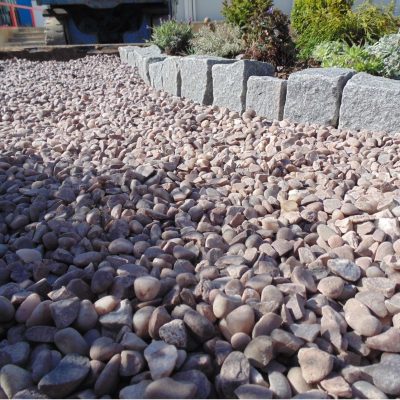 5. Pebbles around the fire feature:
Fire pits cover the major portion when it comes to the construction of the outdoor oasis. The centralized fire feature in the front yard creates a warm appeal all around. But what makes that fire feature more alluring?
Stone pebbles installation around the fire features creates an attractive visual appeal. One can also opt for contrasting outdoor pebbles on the border area for creating a modern design scheme.
For further information, please feel free to contact us for the best support:
Landscaping
SHC GROUP
Ms. Sarah (Direct Sales):
Mobile: +84 936 374 398 (Whatsapp/Viber/Zalo).
Email: export1@shcgroup.vn